U.S. stock markets extended recent gains on Thursday morning driven by the better-than-expected retail sales and inflation data for January, which indicates strength in the U.S. economy and consumer spending.
The U.S. retail sales in January 2023 jumped 3%, versus an expected 1.9% and beating a decline of 1.1% in December 2022, driven by purchases of motor vehicles and other goods, the U.S. Commerce Department said on Wednesday. Excluding autos, sales increased by 2.3% vs the expected 0.9% according to the report, which is not adjusted for inflation.
Furthermore, the retail sales data came just a day after U.S. figures showed inflation slowing but still sticky. The January's U.S. CPI-consumer price index rose 0.5% in January, higher than the 0.4% forecast by economists, which translated to an annual gain of 6.4%, compared with the expected 6.2%.
Excluding volatile food and energy, core CPI increased 0.4% monthly and 5.6% from a year ago, against respective estimates of 0.3% and 5.5%.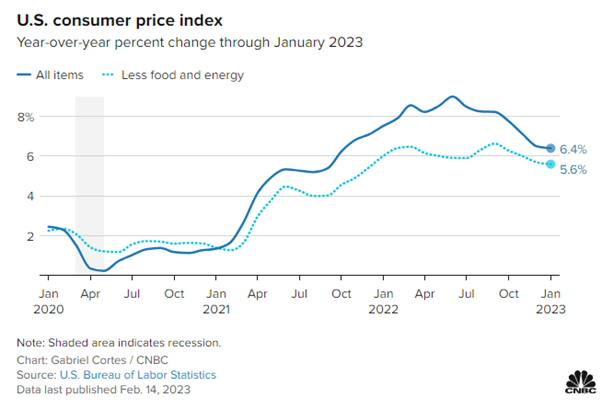 U.S CPI-inflation data for January 2023
In other words, the prices in the U.S. last month increased faster than economists had anticipated, mainly by higher food, energy, and housing (shelter) costs, cementing the case that the Federal Reserve still has further to go in tightening rates.
Looking at the bond market, the yields of U.S. Treasurys climbed after the hotter-than-expected retail sales and inflation report, which likely indicates more interest rate hikes by the Federal Reserve in the next months.
The 10-year Treasury's yield hit a five-week high of 3,80% this week, while the 2-year rose as high as 4.70%, having risen nearly 0.70 percentage points in February alone.
The surging bond yields, the stronger labor market, the robust consumer spending, and the prospects from higher interest rates have also helped the U.S dollar to rise across the board, with the DXY-dollar index hitting a six-week high of 104,11 last night, while Euro broke the briefly below the $1.07 support level.
Equity investors cheered the prospect of sustained economic growth in the largest economy of the world, as some macroeconomic data such as the industrial production, retail sales, and jobs for January were generally better than expected.
The pickup in economic activity in the U.S. is dismissing the concerns about decades-high inflation and surging interest rates, and injecting optimism into the stock market, with tech-heavy Nasdaq Composite extending recent gains by another 1% to 12,070, followed by lower gains of 0,30% and 0,10% in S&P 500 and Dow Jones indices respectively.