Crude oil prices trade in negative territory for a third consecutive trading session in a row, with Brent and WTI prices falling as low as $83/b and $76.50/b respectively on Tuesday morning on growing worries for more supplies from Russia, and further interest rate hikes by major central banks ahead in the week.
Brent crude futures lost $1.20/b, or 1.50% to $83/b so far in the day, after falling by more than 2% on Monday, and adding from another dip by 2% last Friday when it was trading to as high as $88/b on optimism over Chinese reopening, and a softer dollar.
Russia oil exports at any price:
Both Brent and WTI crude oil prices lost over 2% on Monday following reports that Russian President Putin has allowed local energy companies to sell however many barrels at whatever price they can get in the market.
Why is bearish for the oil markets? Because Putin gave the green light to the oil companies to apply any discount necessary to sell their oil to any customer in the world, without setting any floor price for exports.
This event could create headaches within the OPEC group since the cartel declined its overall crude production by 2 million bpd last year to support the falling prices amid the fear of an economic recession.
Interest rate hikes ahead:
Adding pressure on the recent selloff, energy investors are worrying about the coming interest rate hikes from the three largest central banks in the world, which threatens to slow further global economic growth and weaken demand for petroleum products.
Federal Reserve is widely expected to hike interest rates by 25 basis points to 4.50% on Wednesday, Feb. 01, followed by a 50 basis points increase by the European Central Bank and the Bank of England to 3% and 4% respectively on Thursday, Feb. 02, to curb the 40-year record high inflation.
Taking support from the coming Fed's rate hike, the DXY-U.S. dollar index which tracks the greenback against six major currencies, managed to bounce off from its 7-month low of 101.50 mark hit last week, to just over 102.50, adding extra pressure on the dollar-denominated crude oil prices.
Brent and WTI crude oil prices climbed to near $85/b and $80/b respectively on Tuesday morning as a severe Arctic snowstorm, frigid cold, and blowing winds, which swept across the U.S. over the last few days, have halted some crude oil and gas production and has also increased the demand for heating oil.
One of the coldest Arctic events on record is expanding across most of the United States, having pounded regions from the upper U.S. Midwest to the Northeast, and toward areas as far south as Texas and Florida.
According to Reuters, the crude oil production in North Dakota was cut by 300,000 barrels a day and the U.S. natural gas production declined by 10%-15% because of the blizzard.
Hence, the high winds in the Texas Gulf Coast also temporarily shut down LNG exports and petroleum products to other countries, especially in Europe and South America.
Market reaction:
Oil contracts have extended last week's gains of 4% driven by the threats of Russian President Putin to cut production by between 500,0000 and 700,000 barrels per day in response to the price cap of $60 per barrel placed on Russian exports by the G7 grouping of countries on December 05, 2022.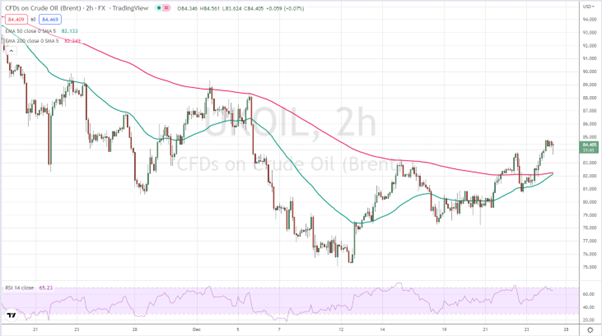 Brent crude, 1-hour chart
Both oil prices have posted a significant rally over the last few days, trading over 12% higher relative to their 2022 lows of $75/b and $70/b respectively, set at the beginning of December, as energy traders bet on a potential China reopening which could provide a big boost in oil demand.
According to S&P's latest forecast, oil demand in China could hit 15.7 million barrels per day in 2023, which would represent an increase of 700,000 barrels compared to 2022.
Increased oil demand from China could offset a potential slowdown in demand for petroleum products across the world amid the likelihood of an economic recession due to the hiking of interest rates and record-high inflation.