Bitcoin surged to its highest level since June 2022 and just before its pre-FTX bottom, climbing as high as $26,500 on Tuesday morning, extending its recent rally in response to the brewing financial crises and bank collapses.
Bitcoin's market cap was last at $501.95B or 44.52% of the total cryptocurrency market cap, while the price is still down 62% from its all-time high of $69,000 set on November 10, 2021.
Like Bitcoin, Ether, the second largest in value digital coin gained 11% yesterday, trading as high as $1,780 (2023 peak) before retreating to the current levels of $1,700, waiting for the next price catalyst to move either side.
The move upwards pushed Ethereum's market cap up to $213.47B, or 19% of the total cryptocurrency market cap, while the price is still down 64% from its all-time high of $4,864 set on November 10, 2021.
Both Bitcoin and Ethereum gained more than 20% since last Friday, when U.S. regulators shut down Silicon Valley Bank and Signature Bank, sending investors to the decentralized currencies for safety.
Bitcoin, which started 2023 at around the $16,500 mark, has risen over 50% so far in the year, while Ether gained 45% year to date, starting the year at around $1,200.
Following the ongoing banking crisis and the growing stress for the financial system, many investors have turned bullish on cryptos as they believe that Federal Reserve could pause or soften interest rate hikes to prevent further economic damage.
In such a case, the U.S. dollar could have weakened from the current levels, benefiting dollar-denominated digital currencies such as the BTC/USD or ETH/USD pairs, and improving the appetite for risk assets like cryptocurrencies.
Some crypto enthusiasts believe that cryptocurrencies will shine again, following the recent US banking kerfuffle, despite a different cause for concern; maybe or-, especially Bitcoin, since it was created for a time like this, as it was inspired by the 2008 financial crisis, launching in January 2009. Cryptocurrency prices skyrocketed also during the Cyprus banking crisis, nearly 10 years to the date.
The two largest digital currencies Bitcoin and Ethereum plunged by nearly 5% to as low as $22,300 and $1,570 respectively on Friday morning, posting their largest one-day percentage loss since early February, as crypto investors fear that a possible collapse of the cryptocurrency bank Silvergate Capital could prove costly for the rest of the industry after delaying its annual report.
Bitcoin's market cap was last at $433B or 47% of the total cryptocurrency market cap this morning, while Ethereum's market cap totalled $191B or 18% of the total cryptocurrency market value.
The sell-off across the crypto board started after Silvergate Capital announced on March 1 that it would postpone the filing of its annual 10-K financial report, which has many fearing the cryptocurrency bank may be on the brink of a bankruptcy filing.
A 10-K report is a document required by the Securities and Exchange Commission that provides a comprehensive overview of a company's business and financial condition. The crypto bank stated that it would need an additional two weeks to complete the report for the 2022 fiscal year.
California-based Silvergate delayed its annual report and said it had sold additional debt securities – investments that can include bonds and notes – to repay debts this year and was evaluating the impact of these events on "its ability to continue as a going concern."
Since the news of the late 10-K filing on March 1, Silvergate's stock price has fallen a massive 57% to a record low of $5.72. The stock is now down over 97% since its all-time high of $219, hit on November 14, 2021.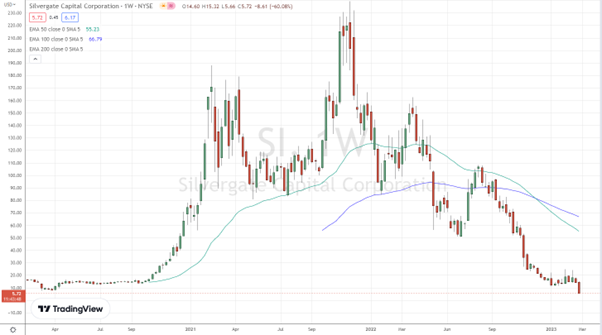 Silvergate Capital share, Weekly chart
Silvergate, a major player in the crypto ecosystem, is a fintech firm that provides financial infrastructure solutions and services to some of the largest cryptocurrency exchanges, institutional investors, and mining companies in the world.
It also offers a 24/7 payments platform, named Silvergate Exchange Network, which has reportedly processed over $1 trillion in transactions since 2017.
Concerns about Silvergate's potential financial troubles first surfaced in Q4 2022, when it reported a net loss of $1 billion as a result of the shock collapse of FTX in November. The exact dealings between Silvergate and FTX have been subject to a probe by the United States Department of Justice recently, although there's been no accusation of wrongdoing at this point.
Despite many firms recently claiming not to have exposure to Silvergate, the bank still processed over $3.8 billion in customer deposits in Q4 2022. This was a steep fall from $11.9 billion in Q3 2022, according to Silvergate.
The firm also provides a stablecoin infrastructure platform, digital asset custody management, and collateralized lending services to several institutional players in the cryptocurrency industry.
Despite the large network effects, the late 10-K filing appears to have had a consequential effect on its partnerships.
Within 24 hours of the late 10-K filing, Coinbase, Circle, Bitstamp, Galaxy Digital, and Paxos confirmed that they will scale back their partnerships with the cryptocurrency bank in some capacity.
The first trading month of the year -January- came with a sharp rally in digital coins across the board despite general worries that a hawkish Federal Reserve will plunge the U.S. economy into recession, coupled with the surging dollar and the negative sentiment after last year's bankrupts in the crypto ecosystem.
Bitcoin, the largest coin by market cap, has rallied over 40% so far in 2023, bouncing from the lows of the $16,000 mark toward the five-month highs of $23,000-$24,000 at the end of January.
The leading cryptocurrency hasn't given investors such an uplifting January since 2013, while it also posted its best month since a 40% rally in October 2021, when prices jumped above the $60,000 level.
Hence, the return on crypto buying has pushed the total market capitalization for cryptocurrencies to move above the $1 trillion key psychology level, according to Coinmarketcap, while the global crypto volume has risen to $5.5 trillion, which is up 61% since the beginning of the year, according to crypto indexing platform Nomics.
Bitcoin had a rough time all throughout 2022, falling from the record highs of $64,000 to multi-year lows of $15,000, helped by a large number of long liquidations and short selling that were fuelled by a variety of bankruptcies in the crypto ecosystem.
Bitcoin soars over 40% in January on Fed expectations:
The rally in risk-sensitive cryptocurrencies was driven by expectations of a Federal Reserve pivot to slower interest-rate hikes as inflation continued to cool.
The Fed is widely expected to announce a 25-basis point rate increase later today at the end of its monetary policy meeting, increasing the Fed funds rate to a 4.5%-4.75% range.
Market participants expect another 25-basis point rate in March, to 4.75%-5%, but then investors are leaning toward no more hikes.
Investors will be also focused on Fed Chair Jerome Powell's comments for any signal about a pause in the tightening cycle, future rate hike outlook, inflation, and economy, which could weigh on the dollar and the market risk sentiment.