Global stocks closed lower on Thursday, after pulling back from session lows, on growing concerns that the stronger-than-expected U.S GDP and the resilient labor market would lead the Federal Reserve to keep hiking interest rates for longer than investors may have hoped to fight the four-decade record high inflation.
U.S. stocks extended losses yesterday and the U.S. dollar rebounded from monthly lows after an upward revision to U.S Q3 GDP for 3.2% annualized growth, above the previous estimate of 2.9%, underscoring U.S. economic resiliency amid the Fed's battle against inflation.
While an upward revision of the GDP would normally be viewed as a positive catalyst for the markets, amid the Fed's tightening phase it triggers market participants' fear that the Fed's funds target rate could rise higher and stay there longer than previously expected, raising the possibility of an economic contraction in 2023.
Market reaction:
The selling pressure on stocks resumed yesterday as economists and traders remained concerned that further monetary tightening from central banks around the world will push the economy into a recession.
Rate-sensitive and high-growth tech stocks led the losses on concerns for softening demand and the hawkish stance by Fed, with tech-heavy Nasdaq Composite settling 2,20% lower on Thursday, ahead of the third week of losses in a row.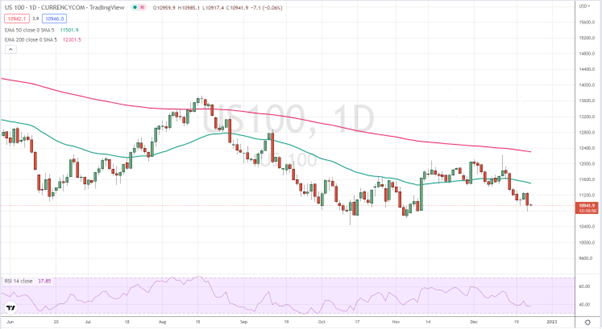 Nasdaq Composite, Daily chart
The Dow Jones index dropped 349 points, or 1.05% to 33,027, after falling as much as 803 points earlier in the session, almost writing off the +1,5% gains on Wednesday after the better-than-expected earnings from Nike and FedEx.
The S&P 500 index declined 1.45% last night and is on track for a nearly 20% annual drop so far, which would be its biggest since the 2008 financial crisis.
With the end of December around the corner, Dow Jones is down 4.5% on the month so far, while the S&P 500 and Nasdaq have tumbled 6.3% and 8.7%, respectively.
All three major averages are lined up to break a 3-year win streak and post their worst yearly performance since 2008, driven by the recession fears and the aggressive tightening and rate hiking by Fed to curb the inflationary pressure.
Asian markets also ended lower on Friday morning, taking the lead from the overnight losses on Wall Street. Japan's Nikkei 225 and Chinese indices fell as much as 1% during the session before ending much higher heading at the closing bell.