Crude oil and natural gas prices have started the new year on the left footing as the growing worries about the global economy, the contraction of global manufacturing activity, the soaring Covid-19 cases in China, and the unexpected warmer winter weather have weighed on the energy prices.
Crude oil plunged 10% in two trading days:
The price of the international crude oil benchmark Brent tumbled 5.2% to near $78/b and the U.S-based WTI crude slid 5,5% to $73/b on Wednesday, as the energy participants worry that the resurgence of Covid cases in China could damage demand growth outlook for petroleum products in the coming months.
Both Brent and WTI prices have lost nearly 10% over the first two trading days of 2023, posting their worst yearly start since January 1991, as investors also worry about a potential global recession coupled with the deterioration of the industrial activity in the world's three biggest oil consumers, the United States, China, and Eurozone.
U.S. and Chinese manufacturing activity contracted further in December, dropping for a second and fifth straight month respectively, while similar industrial weaknesses occurred in Germany and France during the final months of last year, adding to the pessimism around industrial crude oil products demand.
Natural gas price sink on warmer weather:
The record-high winter temperatures across Europe, the lower-than-expected gas demand, and the full gas storage have been weighing on the prices of Dutch TTF recently, the benchmark European gas contract, which fell more than 10% on Wednesday to as low as €64/MWh (per megawatt hour), the lowest level since November 2021.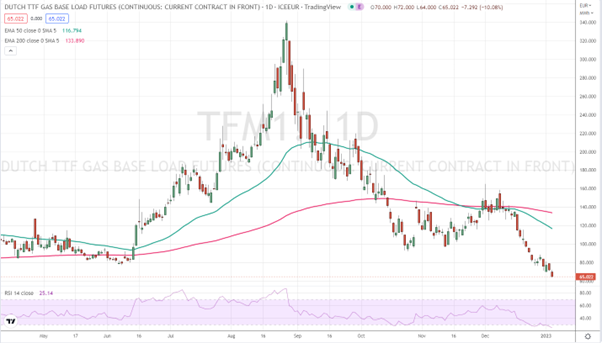 Dutch TTF natural gas contract, Daily chart
The contract reached a record-high of €342/MWh last August, after Russia cut the gas flows to Europe via the Nord Stream 1 pipeline for maintenance reasons, as part of Moscow's weaponization of gas to the Western allies. Russia was supplying as much as 40% of the EU's yearly gas demand before the energy embargo at the end of the year.
The warmer weather in Europe has declined the demand for heating by more than 15%, allowing the countries to send more gas into their storage facilities, which stood at nearly 84% at the begging of 2023. The storage levels stand some 30% higher than in 2021 and more than 10% higher than the average of the previous five years.
At the same time, the milder-than-normal winter weather in China and Japan, the world's two largest LNG buyers, has curbed the local gas demand in the heart of winter, which could free LNG cargo to go elsewhere, especially in gas-thirsty Europe and ease further the energy crisis.
A similar picture in the U.S. Henry Hub gas prices, which dropped as low as $4 per million British thermal units yesterday, near its lowest price in almost a year, and 40% cheaper than its level in mid-December.